"UNDERGROUND ENERGY STORAGE IN THE DANUBE REGION – POSSIBILITIES AND EUROPEAN PERSPECTIVE"
The 6th Stakeholder Seminar of the 'Sustainable energy' priority area (PA2) of the EU Strategy for the Danube Region was held in Budapest on 4 December 2019 with the participation of numerous energy experts, universities, associations, local and national authorities from the Danube Region countries.
The event was organized by the coordinating countries of PA2, Hungary and the Czech Republic, and it was built on the study commissioned by PA2 and prepared by the Hungarian Gas Storage Ltd. titled 'Sustainable Energy Storage Innovations in Danube Region Countries for the EU-Goals of the Paris Climate Agreement'.
The event implied a great interest as the share of renewable energy sources is increasing in the region in line with the EU and national climate and energy targets, but the storage of the surplus energy is still a critical point in this tendency. Therefore the importance of energy storage in future carbon-neutral and environmentally friendly energy systems is well acknowledged all over Europe.
Following the opening speech of Annamária Nádor, Hungarian priority area coordinator of PA2, the audience got an introduction to underground energy storage from a European policy and technology perspective from Serge van Gessel, Chair of EuroGeoSurveys, from the Netherlands. Afterwards Vit Hladik from the Czech Geological Survey presented the results of ESTMAP project, which was the first pan-European assessment of underground energy storage potential. The Hungarian Gas Storage Ltd. presented its study which served as the basis of the seminar, and which was followed by the comprehensive presentation of the hydrogen value chain by Matthias Schlegel, Head of hydrogen unit at Fichtner GmbH.
In the second session Rudolf Zauner from Verbund introduced the Blue Danube project which will deal with green hydrogen production and transport in Central- and Eastern-European countries along the Danube river. Last but not least Markus Pichler from RAG Austria and Ladislav Barkoci from Nafta Slovakia presented their experiences and ongoing developments in underground hydrogen storage in Austria and Slovakia.
In the course of the panel discussion the speakers answered the questions of the audience about hydrogen storage and presented their countries' strategy on underground energy storage.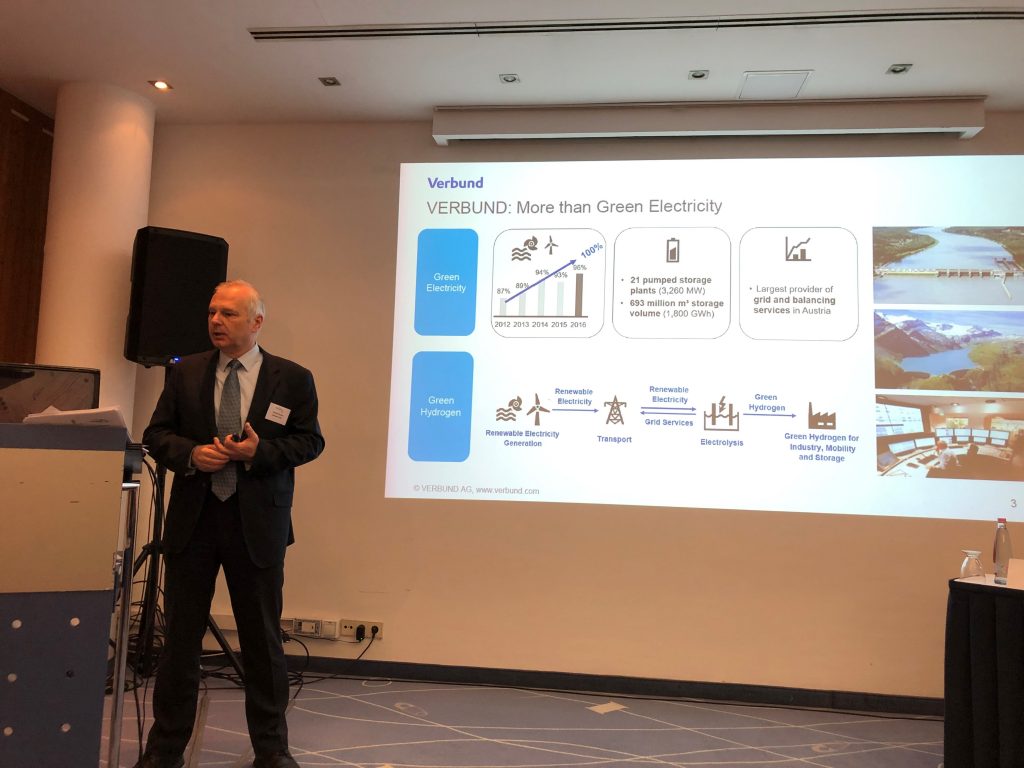 The presentations can be downloaded here:
Vit Hladik_ESTMAP-presentation Budapest 2019-12
van_Gessel_MFA_Hungary_v20191204d
Rudolf Zauner_20191204 IPCEI Green Hydrogen@Blue Danube Budapest
Matthias_Schlégel_FICHTNER – Hydrogen Value Chain
Markus Pichler_EUSDR_Budapest_04122019
2019_12_03_Energy storage_Nafta_L.Barkoci